Unscheduled Life Opportunities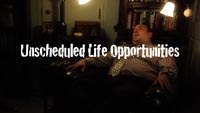 Ivan Pagoda is dead, and his wife and his partner both had a lot to gain. Was it murder, though... or an unscheduled life opportunity?
Created for the Washington DC 48 Hour Film Project.
Character: Ivan or Eve Pagoda, coach
Prop: ID
Line of Dialogue: "We're hoping things will change."
Genre: Detective/Cop
If you are unfamiliar with what the 48 Hour Film Project is about, click on this badge.

Festival Screenings
Washington 48 Hour Film Project, May 2009