Nightmare at 12 Inches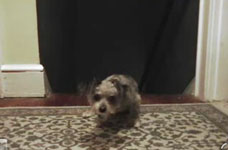 What scares a dog most of all?
This was really created mostly as a joke. It was one of a series of quick turn around films that I did with friends for an internet contest. They were really meant just as learning exercises to get us ready to make more festival worthy films. Then out of the blue this one got picked up to play at a festival. I didn't get to go, but they say the kids loved it.
Festival Screenings
Caldwell, Idaho family day festival, April 25, 2009